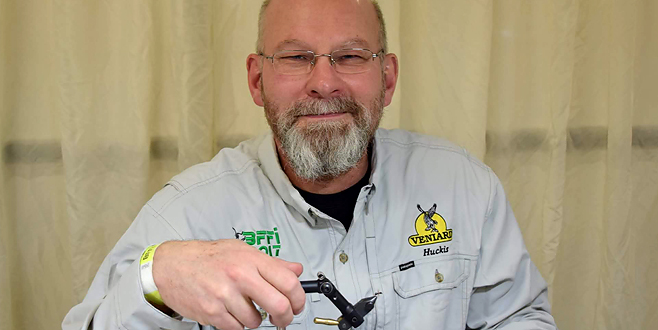 My name is Anders Grünning , and I'm living in a small village in the middle of Sweden , HucksjˆÂsen. From that long name, not easy to pronounce, shortened to `Huckis`, comes my nick-name.
Almost half my life was spent abroad , and I returned to Sweden 15 years ago. Where I live now I have some nice Grayling, and Trout streams around the corner. My family lives about 700km south , and I spent a lot of time there. Trying to have a long season to swing a flyrod.
Started tying flies as a kid, got my first vise from my grandpa at the age of 5. I have had some years in between, when fly-fishing and -tying was out of my focus. Since I moved back to Sweden , it's now a kind of lifestyle. Flyfishing bum or savage, could be names some people put on me. I prefer my homewaters , before I join a grouptravel out in the blue.
I enjoy swinging a big Pikefly in the south Swedish archipelago, and also some rainbowtrout at the clublakes where my family lives.
Perch on the fly could be a good pleasure, if the Trouts has no interest in your streamers. Can spent days trying to get a Arctic Char on a size 18-20 midge, up on the heights where I live.
However has flyfishing been giving me some nice friends , whom I'm glad to share some days at a new waterside with. Nowadays is my tying mostly focused on durable fishingflies and my search of good tying materials or sources.
I will doe some emerger patterns , and my D C Ants. I`m glad to be at the Fair. Hope to see you there.
Huckis