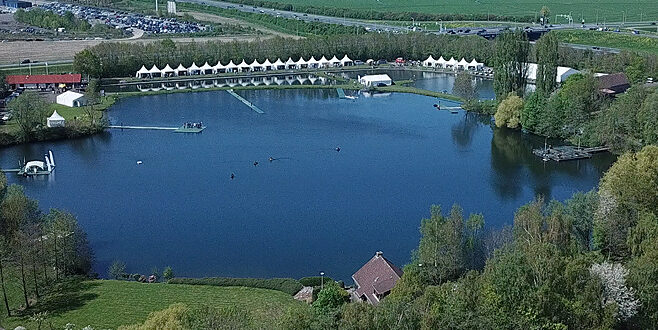 English version
Thé Ørgänizátiøn is al enige tijd druk in de weer met de voorbereidingen van FLY FAIR 2020. De vorige editie van dit vliegvisfestein roept fijne herinneringen op bij zowel de bezoekers als bij de standhouders zodat we goede hoop hebben dat FF 2020 minstens zo leuk wordt, zo niet leuker. Het succes van de Fly Fair wordt mede bepaald door de exposanten.
Never change a winning team. De opzet van Fly Fair 2020 blijft grotendeels ongewijzigd. Net als de verleden keer hebben we gekozen om het pagodedorp te laten verrijzen op het terrein van van Forelvisvijvers De Berenkuil. Deze fraaie locatie is perfect te bereiken aan de Berencamperweg 11 te Putten (A28 afrit 9 en je bent er).
Voor de bezoekende vliegvisser is het aanbod wederom enorm breed. Alles op het gebied van vliegvis lifestyle is er te vinden: van fly casting tot fly dressing, alles voor alver tot zalm, van haakje 36 tot kledingmaatje 36, van voorlichting tot voorinschrijving en van de meest geavanceerde industriële technische hoogstandjes tot het verbluffende vakmanschap in het aloude handwerk.
De bezoeker maakt ook kennis met de meest uiteenlopende vliegviswateren ter wereld: van Putten tot Patagonië. Want we willen vliegvissers graag met raad en daad helpen bij het organiseren van vliegvistrips, kort of lang, verweg of dichtbij. Vandaar ons thema: The World of Fly Fishing.
Graag nodigen wij exposanten uit deel te nemen aan de Fly Fair 2020, opdat het weer een feest mag zijn vóór en dóór vliegvissers. Ook al gaat het om een uitgestrekt terrein, toch is er op de Fly Fair helaas een beperkt aantal pagodes beschikbaar. Daarom raden wij exposanten ook aan zo spoedig mogelijk een pagode te reserveren.
Evenals de vorige keer  kunnen wij deelnemende standhouders iets speciaals aanbieden: gratis advertentieruimte in de voorjaarseditie van de Nederlandse Vliegvisser. Een veel gelezen verenigingsblad en volgens kenners één van de mooiste vliegvisbladen van Europa. Daarnaast worden standhouders ook in het zonnetje gezet in alle digitale uitgaven, als De Digitale Vliegvisser, nieuwsbrieven, websites en Facebook pagina's.
Mocht u geïnteresseerd zijn om op dit prachtige vliegvisfeest aanwezig te zijn als exposant, neem dan contact op met Jan Huisman: huisman.jan@ziggo.nl Hij stuurt u dan per ommegaande een infopakket en een reserveringsformulier.