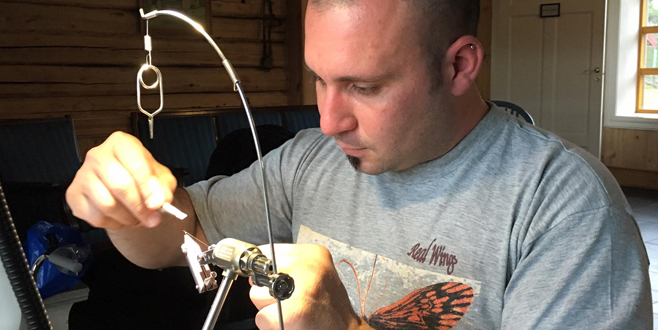 Hello everyone fly fisherman and fly tyer, my name is Fabio Gasperoni, I live and work in Terni (Umbria, central Italy). I am 36 years old and I started fly fishing 18 years ago. Immediately I loved the fly tying world, I started to tie by myself reading books and tying for days.
I like to tie some kind of flies, dry fly, nymphs, wet for trout and grayling and also various streamer for salt water but in particular I like the pike flies……in short, I like tying to 360°!
I participated in various shows and flying leg events: The Sim Fly Festival in Italy (fixed member), Alto Reno Fly Fishing Classic in Porretta Terme, Fly Tyng Experience in Vicenza, Ireland Angling Show in Dublin and Irish Fly Fair in Galway, Sportfiskemässan in Sweden.
For me is the first time in this Fly Fair, during the Fly Fair I will tie my Pike flies and Asp flies. Looking forward to meeting all Dutch Fly Fisherman!!