English version
De Fly Fair heeft dit keer haar tenten opgeslagen op het terrein van forelvijvers de Berenkuil. Dit terrein bevat een drietal vijvers (waarvan de grootste 4,5 hectare meet) en biedt met zijn totaal aan 8 hectaren meer dan voldoende ruimte voor vele bezoekers en exposanten.
Hieronder een overzicht van het terrein. De mogelijkheid bestaat dat in de komende periode de indeling iets gewijzigd kan worden.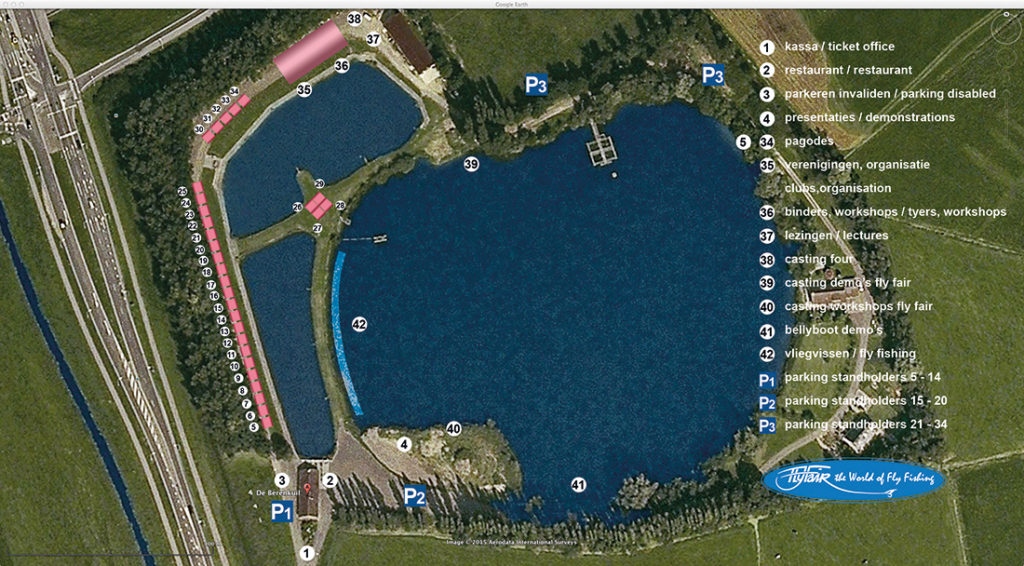 A & M – pagode 5
Buff Shop – pagode 12
Canadian Creek – pagode 17
Cobb BBQ's – pagode 12
Coch-y-Bonddu Books – in de binderstent 36
Chevron Hackles – pagode
Denmark fishing outdoor lodge – pagode 25
Dyckers – pagode 16
Elberse International – pagode 29
Exclusive FlyFishing – pagode 24
Fasna Fly Fishing – pagode 20
Federatie Vlaamse Vliegvissers – in de binderstent
Finest Flyfishing – pagode 33
Fly Fish Europe – pagode 21, 22
Fly & Spin – pagode 30,31
Fly Supply – pagodes 26, 27, 28
Game Fishing Hooks – pagode 34
Hengelsport Van Benthem – pagode 6, 7
Inland Fisheries Ireland – pagode 32
Koppang Camping – pagode 19
Kvennan Fly Fishing – pagode 8
Martin Fly Fishing & Tropical Fly Fishing – pagode 23 (helft)
Nederlands Vliegvissersgezelschap – in de binderstent
Outdoor & Travel Outfitters – tussen pagode 24 en binderstent
Patagonia FlyFishing – tussen pagode 24 en binderstent
Peter den Hollander – in de binderstent
Petitjean Fishing Equipment SA – pagode 18
Pro-Flyshop – pagode 23 (helft)
Qflyshop – pagode 9
Rajamaa in Lapland – pagode 11
Rien de Wolf – pagode 15 (helft)
Ronde Bleek – pagode 10 (helft)
Schukken Design – in de binderstent
Smartlures.nl – pagode 10 (helft)
Snoekstudie groep Nederland België – in de binderstent
Steffens Fly Fishing School – pagode 16
Stickman Rods – pagode 14 (helft)
The Kingfisher – pagode nog niet bekend
Het terrein is goed bereikbaar via de nabij gelegen A28. Neem afslag 9 richting Nijkerk. Meteen aan je rechterhand zie je het Fly Fair terrein Er is meer dan voldoende (gratis) parkeerruimte beschikbaar. Golden Tulip hotel Ampt van Nijkerk ligt binnen loopafstand.
Berencamperweg 11
3882 SP Putten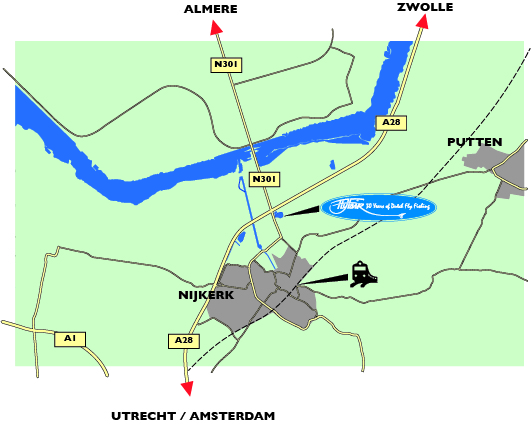 over de Berenkuil
Forelvijvers de Berenkuil is een van de oudste vijvers die ons land rijk is. Het aanbod aan viswater is er ruim en de faciliteiten zijn uitgebreid. Twee van de drie vijvers zijn klassiek te noemen. Prima onderhouden, stevige oevers, helder water en boordevol forel.
Van een geheel andere orde is de grote vijver. Laten we het maar een flinke plas noemen want dit water beslaat 4,5 hectare en is grotendeels omzoomd met bomen en hoge struiken. Van ouds is het een zandafgraving wat meteen te merken is aan de diepte. Die kan direct buiten de oever al snel oplopen tot een dikke 15 meter op het diepste punt. Bijzonder is de aanwezigheid van een gezond en natuurlijk bestand aan Nederlandse vis. Er zwemt snoek, snoekbaars en baars rond, net als voorn, (gras)karper en brasem. Voor de liefhebbers van grote snoek (en die zit er echt!) is deze plas een echte uitdaging.
De regenboog- en bruine forellen zwemmen er in grote aantallen rond. De uitgezette forellen zijn merendeels 'aalscholver proof'. Hetgeen betekent dat ze van een fors formaat zijn. Spijtig voor de aalscholver, des te leuker voor de vliegvisser. Vis er daarom niet te dun, een leader met een trekkracht van minimaal 4 kilogram is een vereiste. Een aftma 6 hengel heeft de voorkeur. Over de keuze van de reel doen we geen uitspraak, bijna alles voldoet. Mocht u willen vissen op de grote vijver dan is het verstandig om niet alleen een drijvende lijn mee te nemen, maar ook een setje polyleaders met uiteenlopende zinksnelheden. Een tweetal reserve spoelen geven onderdak aan een intermediate lijn en een snelzinkende lijn. Over de mogelijke tactieken en technieken wijden we hier niet uit. Tijdens de Fly Fair zijn er voldoende 'cracks' aanwezig die je graag op weg helpen. Of lees het artikel uit uitgave 114 van De Nederlandse Vliegvisser nog maar eens na. Daarin legt Pieter-Bas Broeckx het nodige uit over het reservoirvissen.
veel mogelijkheden
In het verleden was de plas alleen te bevissen vanuit de bellyboot. Bezitters van zo'n buikband zijn nog steeds welkom, maar sinds 2014 zijn er ook drijvende pontons te huur. Ze zijn voorzien van een elektromotor en anker en bieden meer dan voldoende ruimte aan twee vissers. Het moet gezegd worden: het is comfortabel vissen vanaf zo'n ponton. Groot voordeel ten op zichte van de bellyboot is dat je rechtop kunt staan en dus meer overzicht hebt.
Wie niet de plas op kan (of wil), kan goed terecht op een van de lange drijvende steigers die haaks op de oever liggen. De steigers hebben een respectabele lengte, je kan er bij wijze van spreken met je hele visclub op terecht.