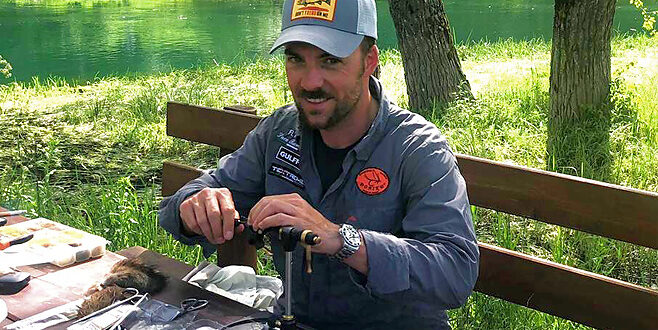 My name is Luca Barosselli and I am 32 years old. I live in northern Italy. I fish sice my childhood and in 2010 I was introduced to fly fishing. I felt in love with it and it became my only passion. The year after, with the help of friends, I started tying my first flies: both classic and modern.
Since then, with the support of tiers well known in Italy and Europe, I always tried to improve myself, getting new tips and refining my tying technique.
I constantly went deep inside this new magic world and spend a lot of blood, sweat and tears, focusing mostly on the Italian Style where Francesco Palù was the pioneer.
I had a cooperation with the famous teacher Massimo Magliocco, taking care of his tying articles published by some important specialized magazines.
In 2015 I tied at the Forlì Fly Fair for my friend Diego Riggi, founder of Dressing Italiano. And in 2016 I attended the Vicenza Fly Fair at "Fly Fishing 360" corner, an organization which I'm still associated to.
In 2017 I attended again at the Vicenza Fly Fair tying at the desks of "Fly Tying Experience", a tying group organized by Fabio Federighi, one of my best teachers and a friend. At this Fly Fair I won a Stonfo prize for a tying competition organized by the magazine La Pesca a Mosca e Spinning.
I'm also a pro team member of Gulff Resins, Textreme, Swiss CDC, Dohiku hook and Fulling Mill ambassador. I'm still associated to the Bereguardo Greygoose Club where I share my passion with my friends. In 2018 I took part in the Vicenza fair at the "Pescare Show"and the "Danish Fly Festival".
My flies go through different techniques, from traditional to modern ones with the use of every kind of materials available.
I try to represent "the Italian style", born from the great Francesco Palu and subsequently developed and customized by other great builders disciples of his concept of "seeing" a fly.
This innovative style of the 70s and still contemporary in synthesis looks at the construction of a fly as a whole finding a complete harmony between assembly and verisimilitude to the real insect giving priority to the movement of the artificial in the water. Thanks to the perfect mix of materials with different properties and appearance it is possible to obtain a perfect artificial in all its peculiarities.
I fish rivers in Italy and abroad, plenty of challenges where I love trying my flies and push my limits.
I'm conscious to be only at the beginning of a hard and long way, to pursue a path that will allow me to grow professionally."