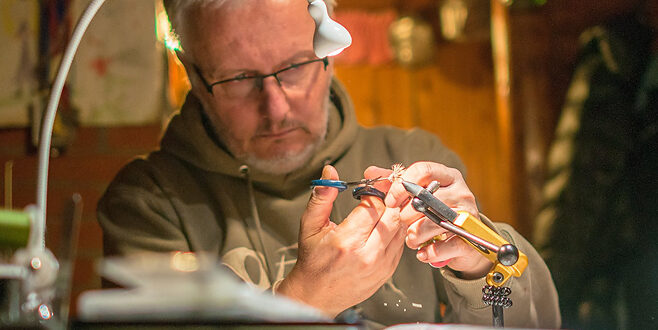 My name is Tomaž Modic (Pr. Tomasch Moditz!), I was born in 1966 in Ljubljana-SLOVENIA and I am fishing as long as I can remember. I was introduced to flyfishing and tying in 1986. From 2005 on, I work at the Fisheries research institute of Slovenia as a fisheries biologist.
My father was born on the banks of lake Cerkniško jezero and I spent many days and whole summers there chasing fish and running from river keepers.
I was 'swallowing' book after book from my friends, bought some of them myself and got deeply involved in from what I see now – Northern American approach to flyfishing. It took me almost 10 years to get in touch with a bit of British heritage too. Later during my student years I earned extra money by tying flies, building rods and guiding on Slovenian rivers. I graduated biology (taxonomy & ecology) at the University of Ljubljana, where I live all my life. Being tired of commercial tying, I accepted the challenge of rod building. I was earning just enough to cover my tackle needs (which are a bit on the HIGH side I must admit) and fishing licenses that are not cheap at all here as well.
I tied flies several times in European fly – fairs (Holland (NL) and Kolding (DK)) and once in US (Denver). At the flyfairs I am trying to keep and present the characteristic flies of Slovenian origin and Slovenian flyfishing school, as well as my own patterns. I was lucky to know late Mr. Marjan Fratnik and late Mr. Ivo Kajžnik and spend some time with them. For more than fifteen years I was also a member of the jury at the Slovenian open flytying championship. During that time, I was also teaching young and adult Slovenian flyfishermen aquatic entomology at flyfishing camps. I also contribute to our monthly fishing magazine Ribic in Slovenia, where I cover the column for flyfishing. Lately I just want to have more time to fish my favorite local rivers Unica, Idrijca, Krka, Radovna and Sava. If you ask me which fly I will use if I'd have to choose only one for the rest of my fishing – it would be my working nymph #14.
So far I have a privilege to flyfish regularly in my country (up to 100 times/year) and also in Croatia, Bosnia and Herzegovina, Austria, Denmark, Wales, Ireland, England, Canada, USA, Belize and Bahamas.
Sport is also deeply present in my life as well as music. I'm certified tennis and windsurfing instructor, but my sport #1 is and will always be basketball. In my teens I was also playing guitar in a bluegrass band.