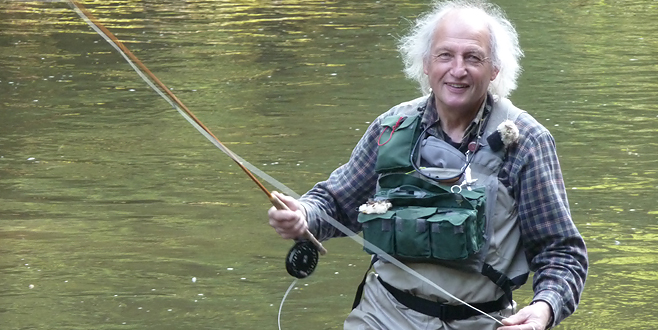 My name is Yann Youenn Bouglouan born in 1949 in Brittany (an old Keltic country in Western France). Since my boyhood spent along the banks of the river Ellé, I am passionate about trout and salmon fishing and local fly-tying. I am a self taught fly-tier: my first fly-tying kit was my hands, using thread and wool from home, as with the others local anglers at that time.
I have been breeding a local type of cocks for feathers ("coqs cendrés") for over 55 years, as the millers and farmers from the valley did for their own wet flies from time immemorial.
Throughout my student years, holidays meant hitch-hiking from the Hebrides to Lapland equipped with fishing rods and tent.
In 1975, I met P. T. Jacobsen from Denmark: I must thank him for helping me understand the need to keep true to my roots and the fact that our traditional flies are just as important as any other.
For too many years, I have been fighting to protect our rivers against farming pollution, aggressions and what you could call the blind indifference of men.
I enjoy angling all types of fish, connecting and sharing with people.
I am looking forward to attending Fly Fair 2018. I will be dressing traditional trout and salmon flies from the river Ellé and new flies with old traditional materials: wild boar fur shrimp for bass and Danish sea trout or a special "disheolier skoulmet"
Regards